Just as there are laws in our country that control the way we live, so there are spiritual laws which determine your relationship with God.
GOD LOVES YOU AND OFFERS A WONDERFUL PLAN FOR YOUR LIFE
GOD'S LOVE
"For God so loved the world that He gave His one and only Son, that whoever believes in Him shall not perish but have eternal life."
John 3:16, NIV
GOD'S PLAN
Christ said: "I have come that they may have life, and have it to the full". (John 10:10b)
But not all people have this full and satisfying life because…
MAN IS SINFUL AND SEPARATED FROM GOD. THEREFORE, HE CANNOT KNOW AND EXPERIENCE GOD'S LOVE AND PLAN FOR HIS LIFE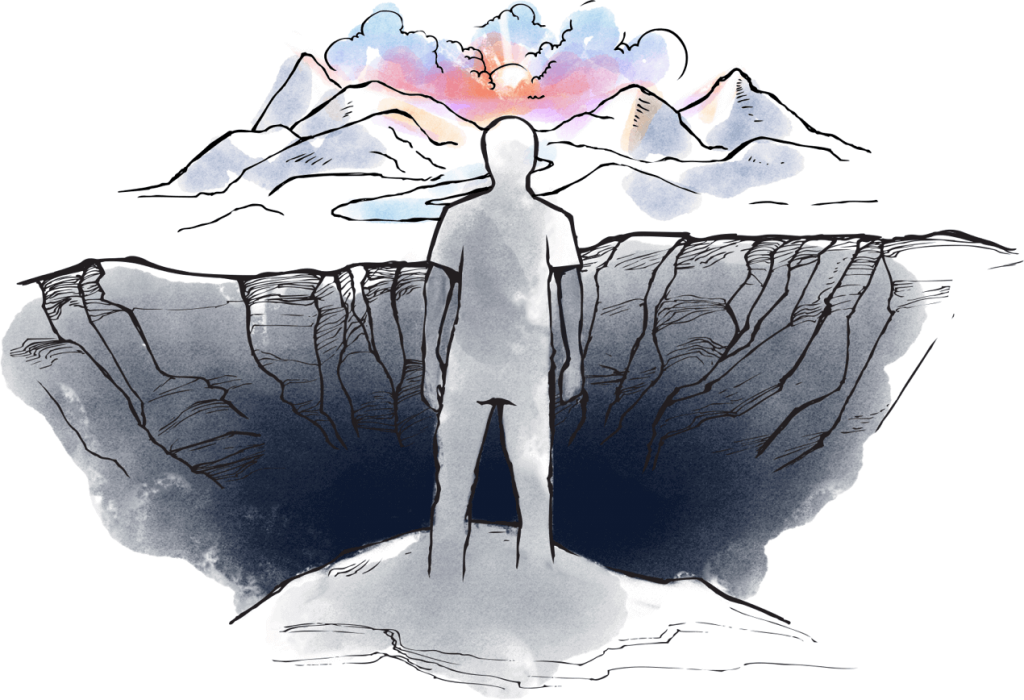 MAN IS SINFUL
"For all have sinned and fall short of the glory of God." (Rom. 3:23)
God made man that He and man might enjoy a close relationship. But the relationship was broken because man chose to go his own way. We go our own way when we do not obey God or care about him. This attitude is what the Bible calls sin. "All we, like sheep, have gone astray; each of us has turned to his own way." (Isaiah 53:6a)
MAN IS SEPARATED
"For the wages of sin is death." (Death here means spiritual separation from God.) (Rom. 6:23)
This diagram shows that, because God is Holy and man is sinful, there is a great separation between the two. The arrows show how man tries to reach God through his own efforts: being religious, living a good life, attending church, not harming anyone, etc. but man's efforts cannot take him to God.
The third law shows us the only way back to God….
THE ONLY WAY MAN CAN REACH GOD IS THROUGH JESUS CHRIST. HE DIED FOR US, THROUGH HIM YOU CAN KNOW AND EXPERIENCE GOD'S LOVE AND PLAN FOR YOUR LIFE
HE DIED IN OUR PLACE
"But God showed His great love for us by sending Christ to die for us while we were still sinners." (Romans 5:8)
HE ROSE FROM THE DEAD
"…Christ died for our sins…He was buried…He was raised on the third day according to the scriptures."(l Corinthians 15:3-4)
HE IS THE ONLY WAY TO GOD
Jesus said:
"I am the way and the truth and the Life. No one comes to the Father except through me." (John 14:6)
This diagram shows that it is only God who can bring us back to Himself. He sent Jesus Christ to die on the cross for our sins, making it possible for us to reach God through Him.
But it is not enough just to know these three laws…
WE MUST EACH RECEIVE JESUS CHRIST AS SAVIOR AND LORD; THEN WE CAN KNOW AND EXPERIECE GOD'S LOVE AND PLAN FOR OUR LIVES
WE MUST RECEIVE CHRIST
"Yet to all who received Him, to those who believed in His name, He gave the right to become children of God (John 1:12)
WE MUST RECEIVE CHRIST THROUGH FAITH
"For it is by grace you have been saved, through faith and this is not from yourselves, it is the gift of God not by works so that no one can boast." (Ephesians 2:8-9)
WE MUST RECEIVE CHRIST BY A PERSONAL INVITATION
Christ says: "Here I am! I stand at the door and knock. If anyone hears my opens the door, I will come in and eat with him and he with me."
Receiving Christ inolves…
     •      Agreeing with God that we are sinful and deciding to turn from our sin.
     •      Trusting Jesus Christ to forgive us our sins and to come into our lives.
     •      Allowing Christ to live His life in us.
Which circle is like  your life?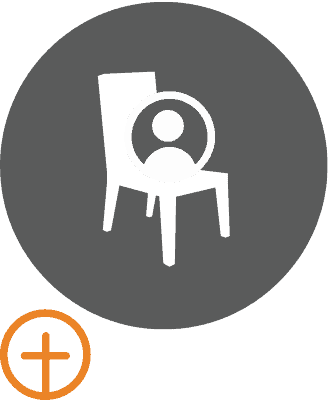 SELF-DIRECTED LIFE
This person is controlling his own life. Christ is still outside the life. Different areas of his life are under his control, resulting in lack of peace with God.
CHRIST-DIRECTED LIFE
Christ is in control of this this life. This person allows Christ to control every area of his life, resulting in peace with God.
Which circle would you like your life to be?
You can receive Christ right now through faith.
You can receive Christ as Savior and Lord by asking Him, in prayer, to come into your life and trusting Him to do so.  You must mean what you pray, for God knows your heart and you cannot deceive Him.
Here is a suggested prayer ->:
Lord Jesus, I need You. Thank You for dying on the cross for my sins. I open the door of my life and receive You as my Savior and Lord. Thank You for forgiving my sins and giving me eternal life. Take control of the throne of my life. Make me the kind of person You want me to be.
Does this prayer express the desire of your heart?
If so, you can pray right now and Christ will come into your life as He promised.